Artist Owned
Independant artist owned and created by Jer Collins
Art with a Story
Everything we make is infused with a story
Organic Cotton
All of our denim is crafted using sustainably sourced organic cotton
Artist Owned
Jeremy Collins began creating as early as he can remember. His work includes numerous adventures and first ascents of climbing routes around the world, but he is most known for his art, film, and creative that has been featured in hundreds of publications. In 2014 he founded Meridian Line as a way to share his fun, playful, and insightful vision with the world on a different kind of canvas.
Learn More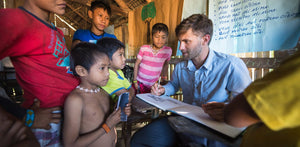 Art with a Story
Meridian Line's vision is to infuse artwork, adventure, and storytelling into each of our products. Some of it is whimsical, some of it is location based (never a place we haven't been, breathed, and perspired), but all of it emerges from and evokes a deeper connection and sense of self.
Learn more
Sustainability
We strive for everything we make to be the best for people and environment. Our denim uses organic cotton, all our garments are produced using fair wage practices, and our tees are all printed with environmentally-friendly water based ink. If there's anything that Meridian Line stands for its continued conversation and evolvement towards a better future, and we commit to that without reservation.
Learn more